Every homeowner wrestles with this question, especially if they're hiring a cleaning service, "What's the difference between a deep cleaning and a standard cleaning?"
It's one of those things that is easy to show but hard to explain. The major differences you'll notice are in the…
Effort – How much energy is this going to take?
Cleaning Products – Do I need heavy-duty chemicals?
Time commitment – Is this going to ruin my weekend?
Price – Wow! That's how much a deep cleaning costs?
Today we're going to use our years of professional cleaning experience to detail each type of service and then let you decide which one is best for your home. This guide is designed to give you the tools and knowledge you need to perform either type of cleaning. Additionally, we've thrown in a few tips to protect homeowners from cleaning services that may try to take advantage of them.
So roll up your sleeves, grab a bucket of soapy water, and let's dive in.
STANDARD HOUSE CLEANING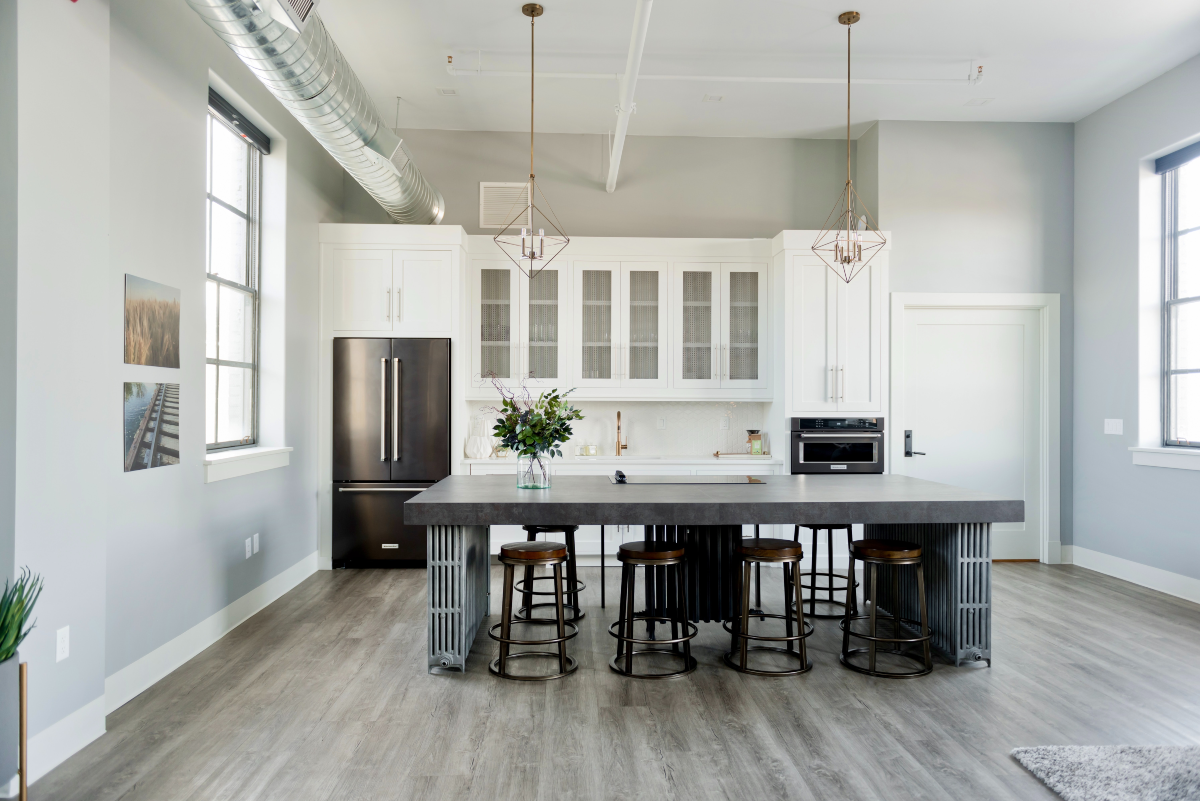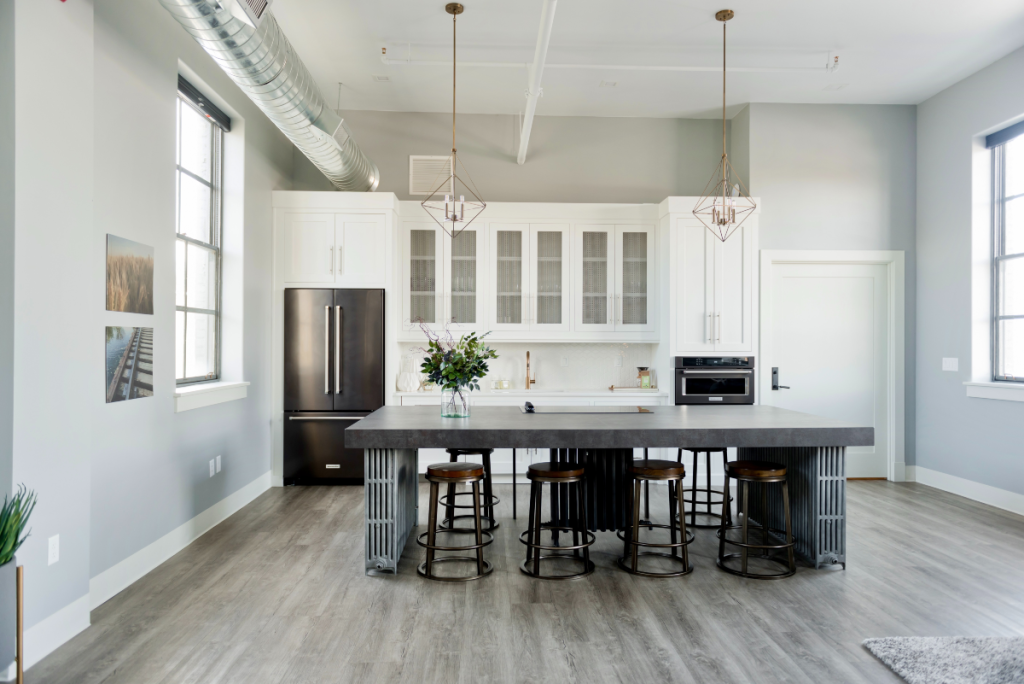 Standard cleanings are commonly referred to as "basic" or "maintenance" cleaning. The cleaning industry uses these terms interchangeably. A standard cleaning is a surface level cleaning to maintain the level of cleanliness that is achieved after a deep clean. 
Think of a daily workout routine. It doesn't' have to be long and intense every time you exercise. As long as it's consistent you can maintain a great bill of health with minimal activity.
The same is true with keeping your home in tip-top shape. Consistent standard cleanings are key.
What's Included in a Standard Cleaning?
Every cleaning service offers a different checklist for their "standard cleanings." Some include wiping cabinets and baseboards. While other skips these tasks and instead add things like dusting ceiling fans or intake vents. 
Let's set the standard for standard cleanings in each area of your home. Use the checklist below, working from top to bottom, when tackling these rooms in your home.
Bathrooms
Dust intake vent

Spray cleaner in tub/shower, agitate and let soak

Fill toilet bowl with cleaner, agitate and let soak

Wipe down all toilet surfaces

Scrub toilet bowl and flush

Rinse out shower and tub

Organize soaps and shampoos

Clean sink and vanity 

Disinfect all fixtures

Windex and polish all mirror

Remove trash and replace trash liners

Vacuum floors

Mop floors
Kitchen
Wipe down interior and exterior of microwave

Scrub stovetop

Clean exterior of oven

Degrease all countertops

Wash all dishes

Scrub sink

Wipe down exterior of fridge

Sanitize refrigerator handles

Sanitize all cabinet hardware

Remove trash and replace trash liners
Bedrooms
Dust ceiling fans

Dust all horizontal surfaces

Make beds

Sanitize light switches and door handles

Windex all mirrors

Remove trash and replace trash liners

Vacuum floors

Mop floors
Common Spaces
Dust ceiling fans

Dust all horizontal surfaces

Wipe down exterior of washer/dryer

Windex all mirrors

Sanitize light switches and door handles

Remove trash and replace trash liners

Vacuum floors

Mop floors
How Long Does a Standard Cleaning Take?
The time commitment for a standard cleaning is much less than a deep cleaning. Essentially, you are completing half of the work and therefore it typically takes half the time. 
At Merit Maids, an average house will take 1 labor hour for every 500 square feet of cleaning. So a 1,500 sq. ft. home should take about 3 labor hours to clean. Use this equation to discover how long it will take to clean your home: 500 / [insert your sq ft]
Labor Hour: 1 hour of work performed by 1 person. 2 labor hours equals 1 hour of work performed by 2 people. 
Standard Cleaning Supplies 
Having the right cleaning supplies will save you a mop bucket full of time! With the proper equipment and cleaning solution, your cleaning will be a breeze. Here's a professional cleaning supply list:
Prices from 2022
Pro-tip: Save money by going to a local commercial cleaning supply company. Stock up on bulk cleaning supplies and save.
How Often Should I Clean My Home?
If you want to maintain a clean house no matter what unexpected guest walks through your door, then we'd recommend following the cleaning schedule below.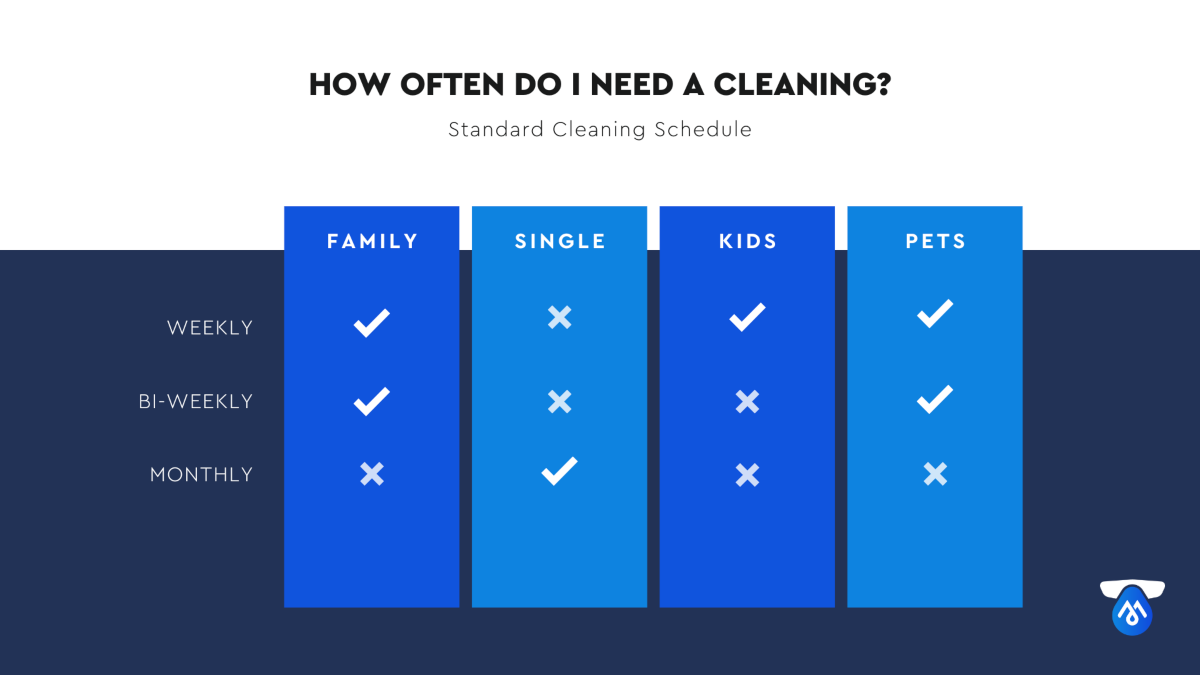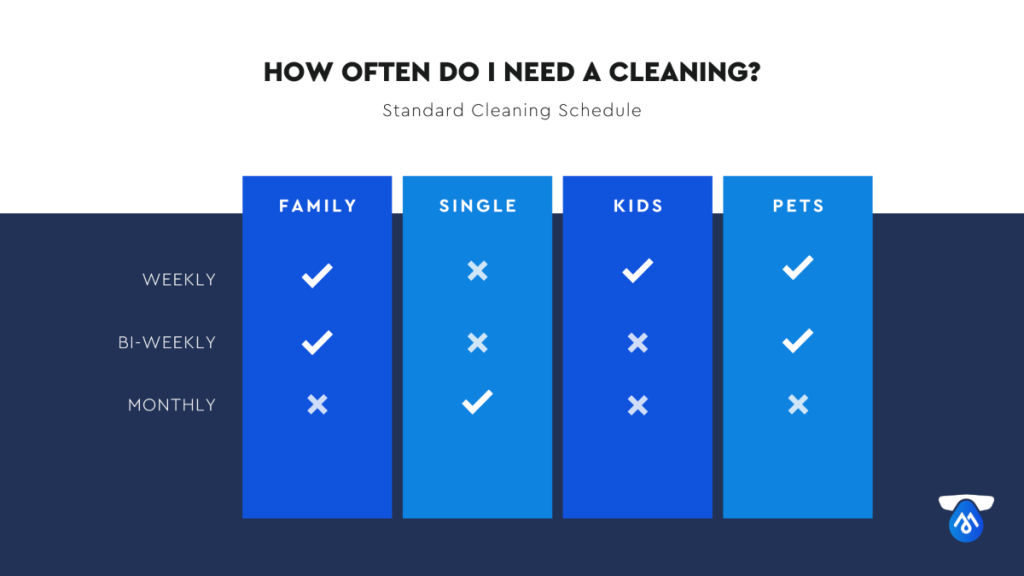 How Much is a Standard Cleaning Service?
Since the time and energy to complete this type of service is half of a deep cleaning you'll find that a standard cleaning is typically 50% of a Deep cleaning cost. 
There are quite a few variables to consider when determining the cost of a standard cleaning for your home; house size, location, number of bathrooms, frequency of cleaning, etc. On average homeowners can expect to pay $50 -$90 per labor hour. 
If we use the 1,500 sq. ft. example above, then they will expect to pay anywhere from $150 – $270 for their standard cleaning. 
Protip: Always ask your cleaning professional if they offer frequency discounts. 
DEEP HOUSE CLEANING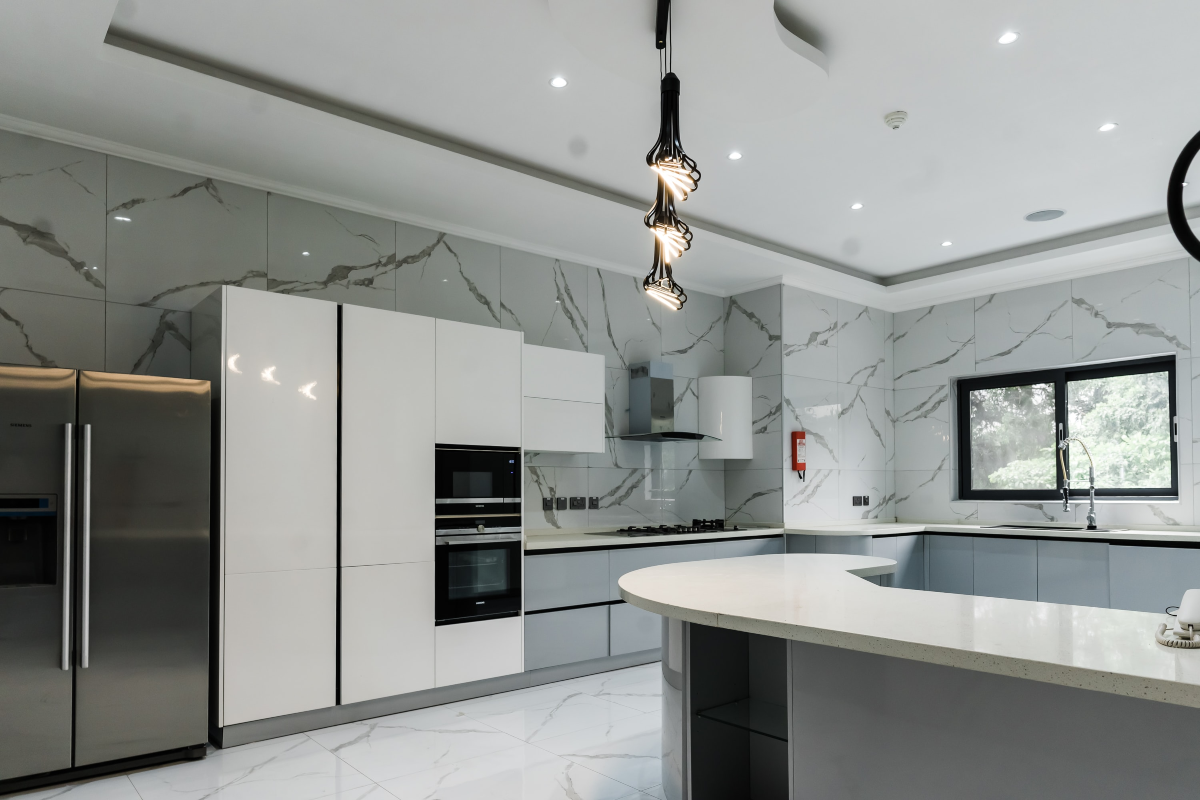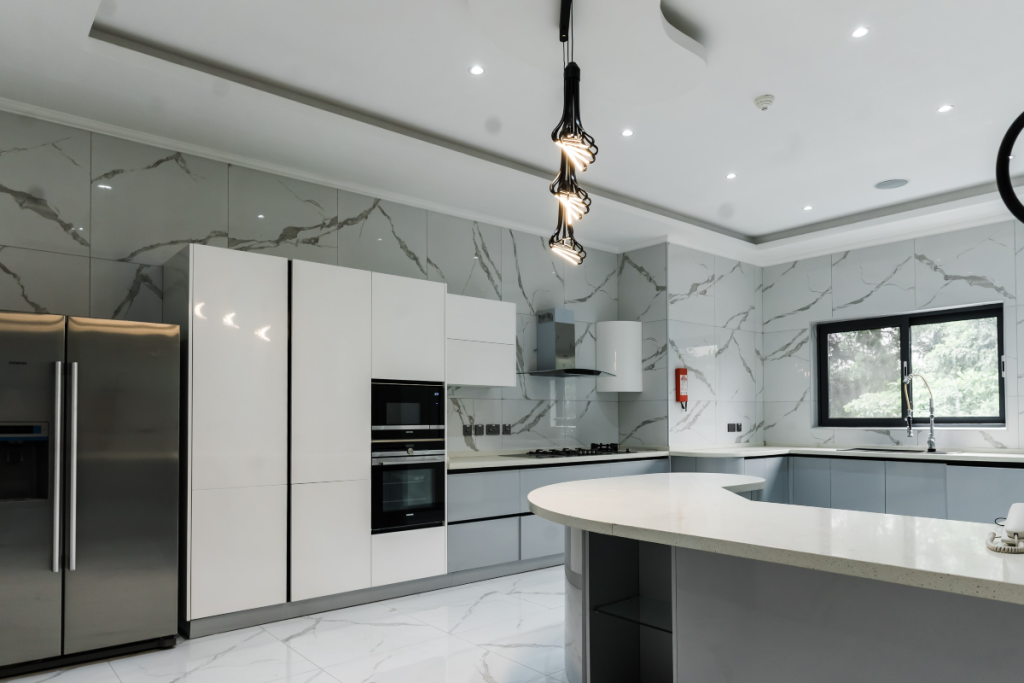 Deep cleanings are commonly referred to as "spring cleanings" or "heavy-duty cleanings." No matter what you call it, It's not surface level, it goes the extra mile and typically takes twice as long. By the time you're finished cleaning a specific room, there should be no sign of dirt and grime. 
Imagine you're preparing your house for a drill instructor or mother-in-law to inspect. You need to hit every surface, behind and underneath items, and even sometimes take things apart to properly clean. This is a deep cleaning. 
What is Included in a Deep House Cleaning?
It's best to follow a deep cleaning checklist to ensure that no corners are missed. Below we have detailed tasks to follow while cleaning each room in your home. This checklist is in addition to the standard cleaning checklists, mentioned above.
Bathrooms
Scrub baseboards

Scrub shower head and tub fixtures

Polish fixtures

Remove all items from cabinets/drawers and wipe their interiors

Replace and organize all cabinets/drawers items

Wipe down exterior cabinets
Kitchen
Spray interior of oven with oven cleaner, agitate and let soak

Wipe down cabinet faces

Remove all items from cabinets/drawers and wipe their interiors

Replace and organize all cabinets/drawers items

Unplug refrigerator and remove all items from fridge and freezer

Toss anything that is expired

Wipe down interior surfaces of refrigerator

Remove photos and magnets from fridge and polish

Scrub backsplash and/or countertop grout
Bedrooms
Detail ceiling fan

Strip all beds and wash sheets

Make beds with freshly washed sheets

Wet wipe all surfaces

Scrub baseboards
Common Spaces
Wet wipe blinds

Scrub baseboards

Wet wipe doors and door frames

Wash interior windows and tracks
How Long Does a Deep Cleaning Take?
After years of scrubbing toilets, making beds, and toothbrushing dirt out of grout we have discovered that, on average, a deep cleaning takes twice as long as a standard cleaning. 
A home in average condition, it should take 1 labor hour for every 250 sq. ft. of cleaning. This is a great equation to implement if you're thinking about knocking out your deep cleaning on a long weekend. 
For instance, if your home is 2,500 sq. ft., then your deep cleaning should take a total of 10 labor hours (2,500 sq. ft. / 250). Have your whole family chip in and cut time commitment down dramatically. A family of 4 could knock out the cleaning in a total of 2.5 hours. 4 people working for 2.5 hours = 10 labor hours.  
How Often Should I Deep Clean My Home?
A single professional, living on his own with no pets and a time-consuming career will not need to clean his home as often as a family of 5 with shedding dogs. The more people and pets in the home, the more often your home will need to be deep cleaned.
Anyone who is cleaning their home on a schedule, then a deep cleaning is recommended twice per year. 
The best times to complete your home cleaning are during the spring and the fall. Memorial Day and Labor Day are great calendar markers to help you remember when to clean. Take advantage of the long weekend and get your home spotless.
Allowing too much time between deep cleanings can actually be a safety hazard for your home. Ask our customer who hired us after they had a kitchen fire due to ignoring the grease building up in their oven.
Deep Cleaning Supplies
You'll need everything from the "standard cleaning supplies" plus the items below to complete your deep cleaning.
How Much is a Deep Cleaning Service?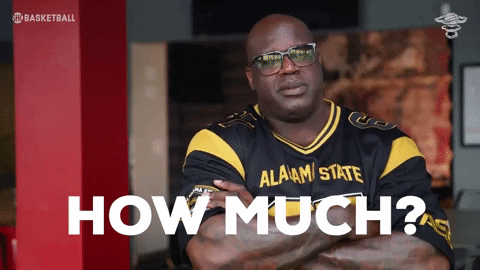 Outsourcing your deep cleaning to a professional maid service is a great time saver. But, most importantly, how much is it going to cost? Costs will vary depending on your location and the market value of a cleaning. The average hourly rate for cleaning services ranges from $50 – $90 per hour.
Using the 1,500 sq. ft. example, a deep cleaning would take approximately 6 labor hours (1500/250) and cost anywhere from $300 – $540.
WHICH TYPE OF CLEANING DOES YOUR HOME NEED?
In conclusion, there are many items to consider when determining which type of cleaning you need. How much time do I have? Do I have the right equipment?
Here's a good rule of thumb: If your home has not been cleaned in over a month, then you should go with a deep cleaning.
Merit Maids makes it easy to outsource deep house cleaning services and/or standard house cleanings. Take a peek at our checklists to help you determine which cleaning you need and then book your cleaning online today.