Finding a reliable, consistent maid service is as unlikely as Taylor Swift finding the love of her life. While I can't help Taylor Swift with her love life, I can help you navigate through the murky waters of unpunctual maids and poopy cleaning services.
3 NON-NEGOTIABLES WHEN SEARCHING FOR A CLEANING SERVICE
1. Insured and Bonded
Dusters have a mind of their own and when they're flying around like Harry Potter during a quidditch match you want to make sure your valuables are protected…obvi! Any cleaning service that you are courting should be willing to send you their certificate of insurance (COI). Being insured and bonded is a cleaning industry standard. If cleaners don't have it…beware!
2. Positive Reviews
People love talking about their negative experiences. Take time to read through your potential cleaning service's social platform reviews (Google, Yelp, Nextdoor, Facebook, etc.). Especially how they respond to negative feedback – says a lot. Their profile should look something like this: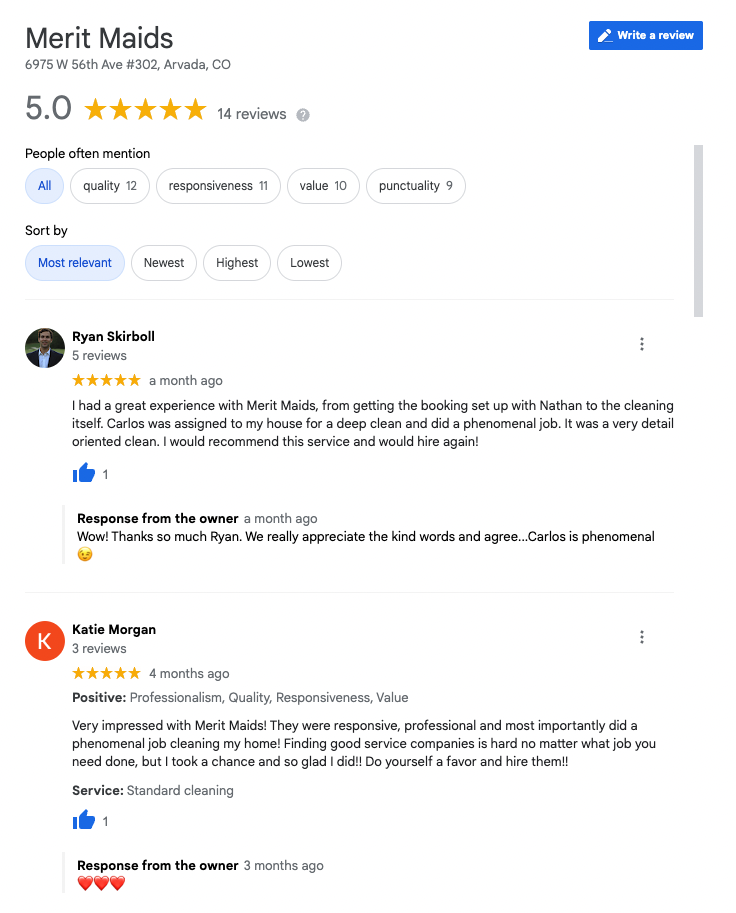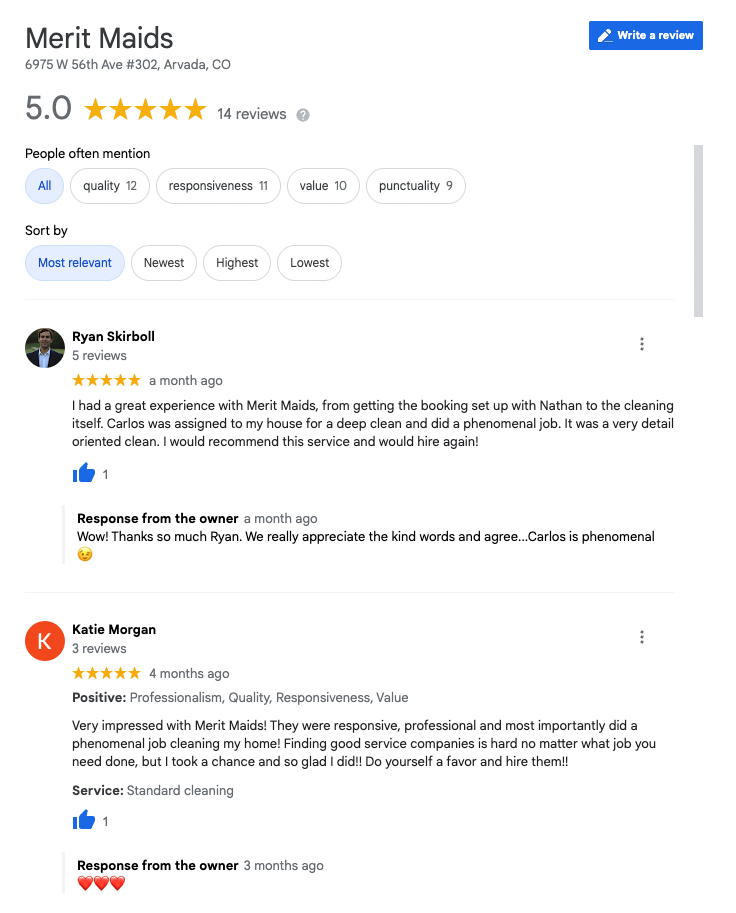 3. Quality Guarantee
After servicing the cleaning industry for years, we've heard our fair share of cleaning horror stories. It's truly amazing what some service providers consider "clean." Customers have called because they weren't able to get their deposit on their apartment back. Customers have called because their cleaning service isn't answering their phone anymore. Worst of all, customers have called and told us about thousands of dollars worth of personal items that were stolen.
Don't get caught with a dirty house and empty pockets. Make sure the cleaning service you hire has a quality guarantee and will make things right before they take your money.
MERIT MAIDS MAKES THE CUT
At Merit Maids, we're proud to check off each box on the "non-negotiables" list. We're running out of room on our sash for all these badges.
$1,000,000 Coverage
All of our team members are required to carry at least $1,000,000 worth of general liability protection as well as $2,000,000 aggregate. I don't know what that means, but I know your property is well protected
5-Star Reviews
Have you ever heard of companies buying reviews? That's some shady business operations. We don't operate that way. Typically our customers are happy to leave a review after they see their home's transformation.


100% Scouts Honor Guarantee
I wish we were as perfect as my wife is, but that's impossible. That's why we are happy to return and re-clean any missed areas within 24 hours of the service. No questions asked. Scouts Honor.