Since when does it make sense to avoid talking dollars and cents?
It doesn't, but so many cleaning services find it just as difficult to talk about their prices as reading the first centence (👈 see what I did there?). 
That's why we developed our transparent Home Cleaning Pricing Guide. 
Where we discuss the major factors that determine your home cleaning cost:
Pricing models

Types of house cleaning

Pesky fees
Our guide is designed to hold the hands of those of you who've never hired a cleaning service and will empower you to make a better buying decision the next time you need your home cleaned. 
Before we get into the nooks and crannies, let's pretend that you and your family (including your Golden Retriever; Goldie Hawn) live in a 2,000-square-foot home with 3 bedrooms and 2 bathrooms. 
This easy example will be used in each section to give you a rough idea of home cleaning costs for every cleaning service.
"Nathan, I just want to know exactly how much you're going to charge me…" 
Absolutely! Skip the shenanigans and get your home cleaning price estimate without giving out personal information or your firstborn by clicking here.  Simply fill out the form and your cleaning rate will automatically populate on the right side of the screen (or very bottom, if you're using your iPhone).
HOUSE CLEANING PRICING MODELS
Every cleaning business uses a different pricing model to charge for its services. We've narrowed these price structures down to the 3 most popular to help you understand the cleaning industry and what major factors business owners use to determine your cleaning bill.
Hourly House Cleaning
Trading your money for your cleaner's time and experience is the fairest pricing model because your cleaning fee is a direct reflection of the condition of your home. 
If you're a clean-freak, then your cleaning will take less time and therefore cost less. On the other hand, if you've been busy crushing life and have neglected some areas then an hourly service may not be the most friendly to your wallet – extracting elbow grease takes time.
According to Thumbtack, the national average is between $40 – $65 per hour, per cleaner. Remember this number, as we're going to need it when we start calculating your house cleaning cost in the next sections.
Pro Tip: Clarify with your cleaning service if they charge by the labor/man-hour (per cleaner, per hour) or charge by the hour no matter how many cleaners are there.
Flat Rate House Cleaning
A flat-rate fee provides peace of mind because you know exactly how much you're paying for your cleaning, every time. Timing doesn't matter. Whether it takes 2 hours or 6, you're paying the same amount.
The cleaning fee depends on variables specific to your home; like square footage, number of bedrooms, number of bathrooms, cleaning extras (i.e. pets or dusting blinds), and how often you need your home cleaned. 
The more often you have your home cleaned, the less the cleaning cost should be. 
Pro Tip: Ask cleaning services that use this pricing model if they have a "heavy-duty" fee and how much they would charge if the cleaning ever was more difficult than they expected. 
Hybrid House Cleaning
Some companies use a mixture of hourly rates and flat rates, depending on what "type" of house cleaning you need. 
For example, at Merit Maids, we use an hourly model for all our Deep Cleaning and Move-in/out Cleaning services. Then we charge a flat rate for Recurring services.
This hybrid model allows us to get on your schedule faster and complete your initial cleaning without a time-consuming in-home estimate (which isn't always accurate). 
TYPES OF HOUSE CLEANING SERVICES
The type of service your home needs is the largest factor that will play into your cleaning cost. 
As a friendly disclaimer, the "time" estimates you're going to read are exactly that…estimates. It's extremely difficult to know precisely how long a cleaning will take because so many variables factor into the time requirements.
Deep Cleaning Cost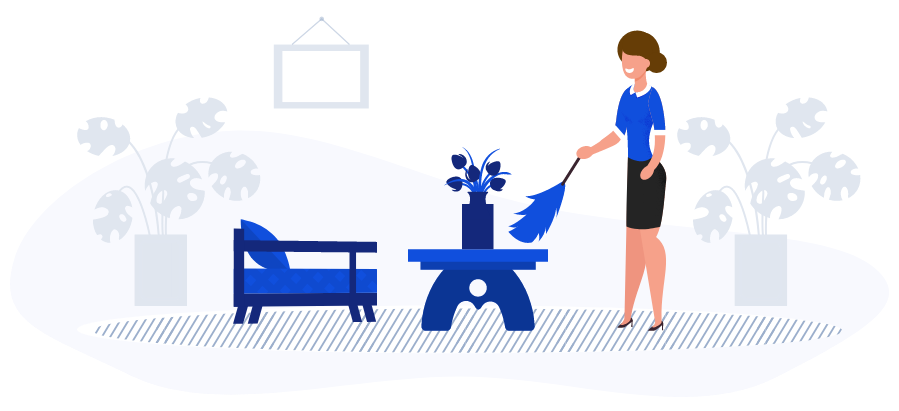 Most companies require an initial Deep Cleaning to get started as a new customer. This service whips your home into shape and typically includes moving furniture, cleaning hard-to-reach areas, and other detailed cleaning tasks that may be ignored from day to day. 
A good rule of thumb is that these types of cleanings take twice as long as a Standard Cleaning and therefore cost twice as much. 
To be more specific, when completing a Deep Cleaning for a home in average condition it takes 1 labor hour for every 250 sq. ft. So we'd estimate that your 2,000 sq. ft. home would take a total of 8 labor hours to complete. 
Don't worry, most cleaning services will have the insight to send more than 1 team member to complete your cleaning. Or else an 8 labor hour cleaning would literally take all day (9 AM – 5 PM)! For larger homes, they should send at least 2 cleaners. Which would have them cleaning from 9 AM – 1 PM equalling the 8 *labor hours (2 cleaners x 4 hours).
Assuming you are being charged by the hour, at the national average hourly rate ($52.50 per cleaning per hour), your home's Deep Cleaning would cost around $420.00
Move-in/out Cleaning Cost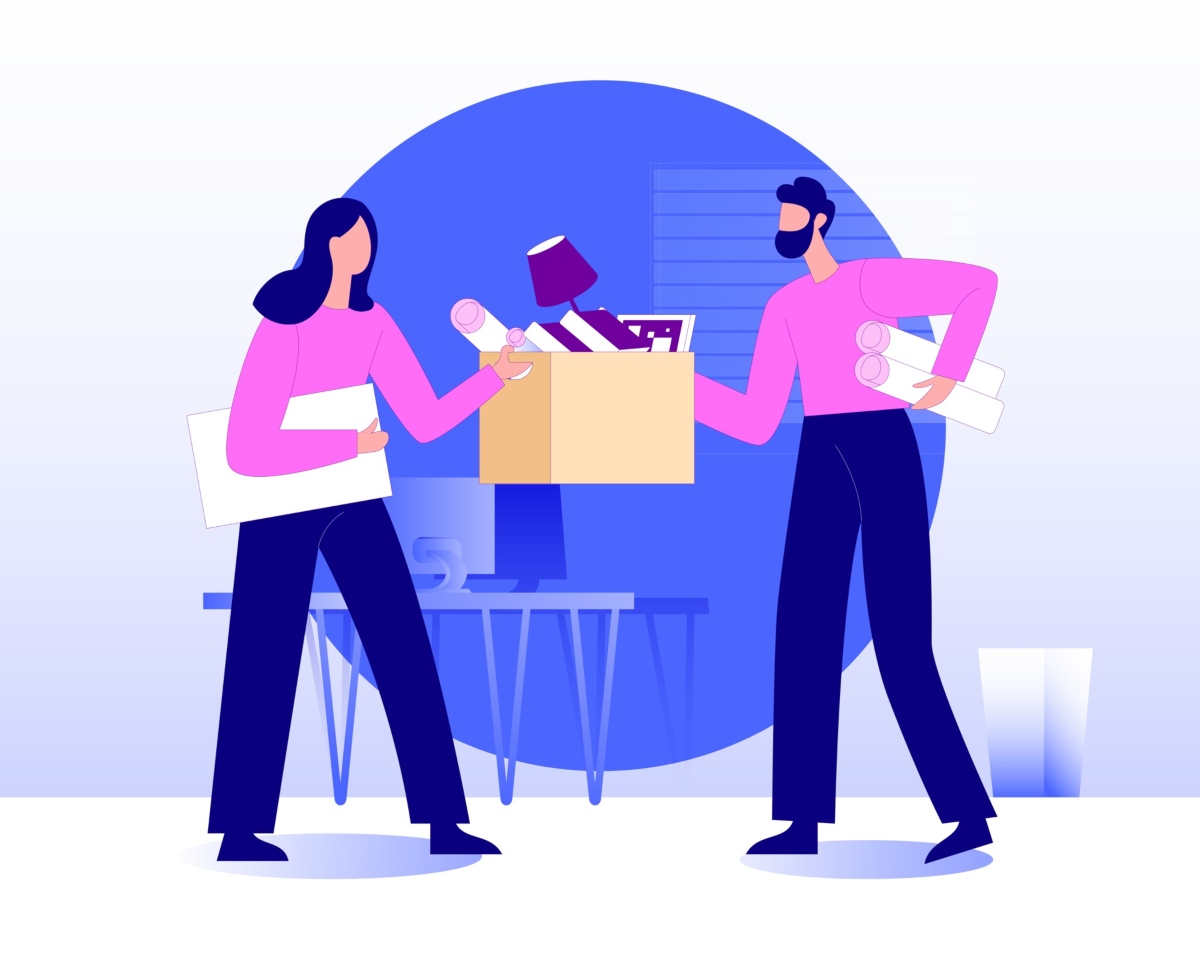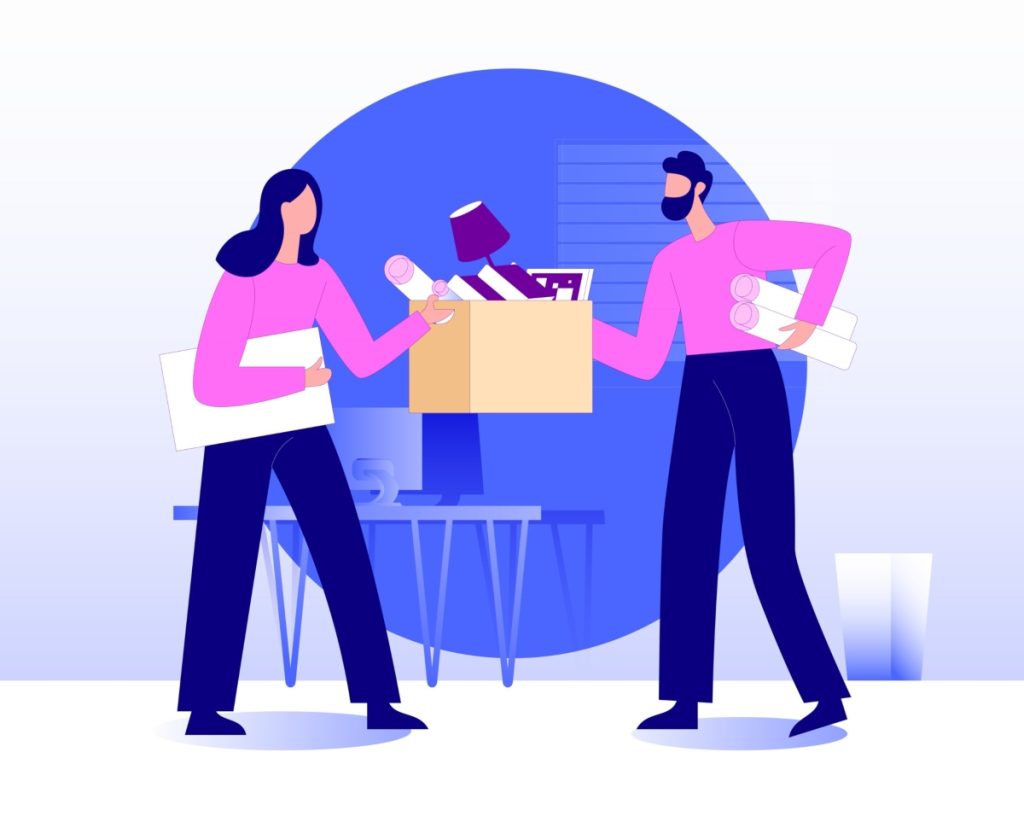 The most detailed, comprehensive cleaning of them all. Your cleaner should clean every single corner of your home. Your Move-in/out cleaning should include inside all kitchen and bathroom cabinets, wet wiping baseboards, window sills, and a complete washing of your house.
"The house is completely empty. So it should be easy to clean." 
This is the most common misconception we hear from our customers – understandably so. The impression that this type of cleaning should cost less because there's no furniture to move or clean seems relevant. 
However, it typically takes the same amount of time, if not more time, as a Deep Cleaning. During a Deep Cleaning, some items cannot be moved. Once those big pieces of furniture are gone, they leave a large cleaning footprint. Which takes extra time because it hasn't been touched in a very long time. 
The time and attention to detail on these cleanings are what make them the most costly. But assuming it takes about the same amount of time as your Deep Cleaning, then your Move-in/out cleaning would cost $420.00
Pro-tip: Book your Move-in/out cleaning with a flexible cleaning service (especially if you're working with movers) who can work around an unreliable moving schedule. Moving cleanings need to be completed by a specific date and should be booked at least 1 month in advance. 
Standard Cleaning Cost
These types of cleanings are reserved for customers who like their homes cleaned on a recurring basis. Sometimes referred to as a "maintenance cleaning" they're performed anywhere from every week to every month (depending on how quickly your home gets dirty). 
This keeps your home in tip-top shape by not allowing any dust to build up or hairballs to start snowballing into pet-hair tumbleweed. 
Think about it like backcountry skiing or snowboarding. It's extremely difficult to climb up to the top of the mountain with all your gear. But once you strap in and start shredding the gnar, you can easily maintain your momentum and cruise down the mountain. Just don't bring any of that snow back into the house 😉 
Remember the cleaning industry time standard from Deep and Move-in/out Cleanings? For Recurring Cleanings, it's very similar. When completing a Standard Cleaning for a home in average condition it takes 1 labor hour for every 500 sq. ft. 
Therefore, your 2,000 sq. ft. home should take half the time (4 labor hours). That means, if a service is charging hourly, then you can expect to pay around $210.00 for a Standard Cleaning.
A company that charges a flat rate is a little more difficult to estimate. It all depends on the monetary value they place on home variables like bedrooms and bathrooms. 
At Merit Maids, we like to be extremely transparent about our pricing. That's why we break down our flat rate costs straight from our booking page. This way you know exactly how much you'll be charged BEFORE your cleaning.
Learn More: Vacation Rental cleanings are a whole different animal. Are you an Airbnb or VRBO host? We wrote a completely separate Vacation Rental Pricing Guide just for you.
ADDITIONAL HOME CLEANING FEES
Whenever I go to the doctor or, heaven forbid, the hospital I sometimes feel taken advantage. It's their overall lack of transparency. There's no price sheet for how much a cold cost or an estimate given for a broken arm. The hospital doesn't tell me the doc's hourly rate. They just send the bill to my insurance and I grimace as I send over my arm and leg. 
That helpless feeling is due to a lack of transparency in the medical industry. Knowing "how much" is essential and builds trust with your providers. 
Here's a list of some common fees you may find in the cleaning industry:
😵 Late Cancelation

– charged when you cancel your scheduled cleaning last minute (within 48 hours). Cleaning companies reserve a time slot in their calendar for your cleaning. When that is removed, last-minute, it's difficult to fill that spot. You can expect a fee anywhere from $50 to 50% of your total cleaning fee. 

😵 Heavy Duty Fee

– anywhere from $50 – $150 and used to cover any unexpected cleaning variables like excessive clutter, dog waste, or hazardous materials.

😵 Pet Fee

– Most companies charge $25 per pet which is applied to mitigate the additional time needed to clean up after shedding pets. Some companies will let this one slide if you have hypoallergenic fur babies.

😵 Inside Appliances

– Cleaning inside of the fridge and oven is a tedious task. You can expect an additional fee of $25-$35 per appliance when you add this item to your cleanings.  

😵 Green Cleaning – Due to the higher price of green cleaning products, some cleaning services will charge a small extra fee to take that extra overhead into account. 
😵 Unable to Access

– Access issues can be extremely common without proper communication. When cleaners are unable to get inside your home and have to move on to their next cleaning you may be charged for their attempt.

😵 Skipped Recurring Cleaning

– Naturally, the more time that passes between cleanings the more time there is for your home to get dirty. Since cleaning frequency is a factor that affects your cleaning cost, if you change your frequency it could increase (or decrease) your cleaning bill. 

😵 Taxes

– Sales tax for service businesses varies by state. Colorado does not recognize sales tax for service businesses. If you see additional taxes on your bill, then you should bring that up with your cleaning service. Here's a map of

sales taxes for service businesses by state

. 
Pro-tip: Before you book your cleaning, review their terms of service (typically a small link at the bottom of their website) or ask your cleaner if there are any additional fees. 
WHAT'S INCLUDED IN MY CLEANING COST?
From your point of view you only get to see what happens once a cleaner arrives at your home. You miss all the behind-the-scenes work.
That's why it's understandable to feel a little confused when you hear an hourly rate and think, "52.50 per hour? That seems pretty high." 
However, the hourly rate covers way more than our team member's labor to clean your home. Here are some other items that we use to factor into our cleaning prices:
✅ Cleaning equipment

 – Carpet vacuums, hard surface vacuums, mops, scrubbing brushes, and HEPA bags are vital tools to complete a high-quality cleaning. 

✅ Cleaning supplies

– Floor cleaner, disinfectant, stainless steel polish, wood polish, duster heads, glass cleaner, and paper towels are the bare minimum that our cleaners carry in their cleaning bucket for a standard cleaning. For more heavy-duty cleanings a lot more cleaning supplies are needed. 

✅ Hiring experienced team members

– Attracting high-quality cleaners to a cleaning service is quite the investment. Companies use subscription services and pay extra for marketing to cleaners. Incentives, pay raises, and maintaining a healthy company culture are vital expenses to a cleaner's happiness.

✅ Technology expenses

– Hosting fees, domain names, web design, and booking software add up. This makes finding and booking a cleaning service extremely convenient for customers. 

✅ Transportation

– For companies that service a large territory, traveling between home cleanings can increase their overhead. Covering gas, mileage, and sometimes wear and tear is a high expense. 

✅ Insurance

– Protecting homeowner's valuables against wild dusters is important and somewhat expensive. A general liability insurance premium starts out at $50 per month and goes up from there. This doesn't include other important insurance requirements like bonding and worker's compensation.
HOW MUCH DOES A MERIT MAID'S CLEANING COST?
After years of trial and error, we've discovered the pricing structure that creates a win-win for everyone. We determined that a simple mix of hourly and flat rate fees works best for everyone.
When you book a Deep Cleaning or a Move-in/out Cleaning with us, you'll be charged by the hour. After your Deep Cleaning, all of our Standard Cleanings are a flat rate fee based on the size of your home + the number of bedrooms + the number of bathrooms you need to be cleaned. 
Your experience is important to us. That's why we do our best to set expectations at the beginning with clear checklists, 100% transparent terms of services, and a personal follow-up after each cleaning. 
Phew! That was a ton of information, thanks for sticking with me. As you can tell, a lot of thought goes into your cleaning cost in order to create a win-win situation.
Hopefully, after reading through our Home Cleaning Pricing Guide you now have more confidence when you need to book your next cleaning.