Your Airbnb calendar is starting to fill up. Guests are starting to book back-to-back cleanings and cleaning your property yourself is slowly becoming more and more unrealistic. You need a vacation from your vacation rental. 
We get it! Countless burnt-out Airbnb hosts have dialed our number, desperate for a cleaning. There comes a time in your success that you need to start outsourcing so you can grow even more. 
Today, we're going to show you exactly how to hire a cleaner for your vacation rental. In this article you'll learn:
Whether to hire a solo cleaner or a cleaning company

How to properly vet an Airbnb cleaner – including the top 3 questions to ask your potential vacation rental cleaner

Answers to every host's most frequently asked cleaning questions
Learn More: Benefits of Hiring a Professional Cleaning Service for Your Vacation Rental
WHO TO HIRE?
Other than cleaning the property yourself, you have 2 major options when it comes to hiring a cleaner. You can either go with an individual cleaner or a cleaning company. Since every property is different and each host has its own priorities, there is no one-size-fits solution. It's up to you to weigh the pros and cons of each option and decide what is more important to you.
Solo Cleaner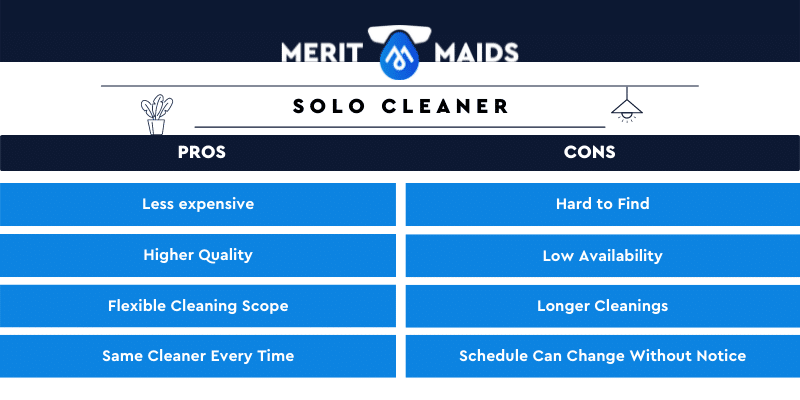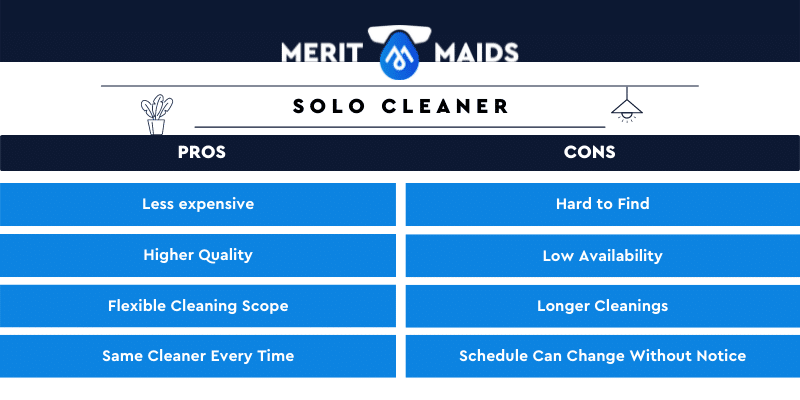 ✅ Pro #1 – Less expensive.

With less overhead, solo cleaners can get away with charging a lower rate. Additionally, most new cleaners are not aware of the market value of cleaning in their area and will offer their services for a low, low rate out of ignorance.

✅ Pro #2 – Higher cleaning quality.

Cleaners who are also the owner have more invested interest in their company's success. They tend to have a sense of ownership that supersedes their tiredness and laziness. 

✅ Pro #3 – Flexibility in their cleaning scope.

 For the sake of efficiency, larger companies will be restricted to what they can and can't do at your property. A solo cleaner will have the freedom to complete those little extras and persnickety requests you may have as a host for your property. 

✅ Pro #4 – Guaranteed same cleaner every time.

This is extremely beneficial for consistent cleaning. A solo cleaner knows all the nooks, crannies, and special requests. They don't have to communicate it to a substitute cleaner. They're always present and will make your property look the same for every guest – clean and shiny.

❌ Con #1 – Harder to find.

Most solo cleaners do not have their own website. Typically because their schedule is already full. You'll find these cleaners by asking your friends for a referral or searching through local Facebook groups.

❌ Con #2 – Less availability. W

hen someone finds a great cleaner they keep them to themselves. One person can only clean so many units in the turnover window.

❌ Con #3 – Cleanings will take longer. L

arger companies are able to send 2-3 cleaners at a time. While a solo cleaner is, well, solo. You may not be able to approve as many early check-in's or late check-outs

❌ Con #4 – Schedule can change without notice. H

osts have called us asking for last-minute cleanings because their cleaner ghosted them. It's surprising every time I hear it, but sometimes solo cleaners will simply disappear without notice. 
Cleaning Company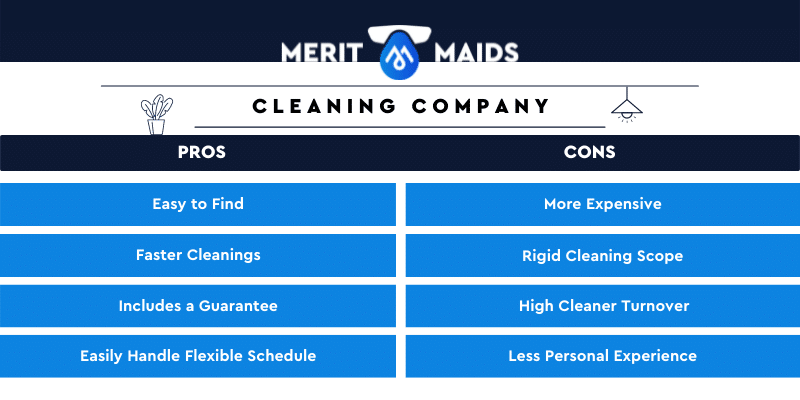 ✅ Pro #1 – Easy to find.

A quick Google search and you'll have a whole pool full of cleaning companies to choose from. Each with its own customer reviews, work photos, and pricing.

✅ Pro #2 – Faster cleanings.

Your guests are constantly asking for late checkouts and early check-ins. This can get a bit dicey, especially during the busy season, and be hard to appease. With a large cleaning company, you can have multiple cleaners knock out your cleaning in a short period of time.

✅ Pro #3 – Guarantee.

Almost all large cleaning companies have guarantees in place to mitigate against a bad cleaning. These guarantees usually include some sort of reimbursement or the ability to have the cleaners come back and make the situation right.

✅ Pro #4 – Schedule Flexibility.

Your calendar may be hard to keep up with at times. Sometimes guests cancel and sometimes someone books last minute. A larger cleaning company with more cleaners will have the flexibility to navigate your calendar's unexpectedness. 

❌ Con #1 – More expensive.

Your cleaning price is not simply paying for the labor. Now it factors in gas, cleaning supplies, equipment, scheduling software, insurance, and much more. These costs are passed on to the hosts and are typically higher than solo cleaners. 

❌ Con #2 – Rigid scope of work.

These companies can have strict policies and checklists that they must follow. Airbnb cleanings are different than normal, residential cleanings and may need some flexibility when it comes to the cleaning scope.

❌ Con #3 – Cleaner Revolving Door. You never know who is going to be cleaning your property. You may have an unfamiliar face cleaning your property at every cleaning. With a residential cleaning, this may not be a big deal. But when it comes to Vacation Rentals there are important, customized tasks that need to be communicated to every cleaner – something may fall through the cracks.
❌ Con #4 – Less Personal Experience

– With a larger service you will likely feel like, "just another number." Most large cleaning companies are franchises with no roots in your city. Hiring local, small business owners is more beneficial to your city.
HOW TO VET YOUR AIRBNB CLEANER
Now that you know who you're going to hire, you need to know how to vet them so you don't end up like this host:
"I just hired a cleaner who I had to go in the next day and clean after her for hours"
If you've been in the short-term rental game for any period of time, then you know that "cleanliness" is one of the most important things to your guests. They can overlook if your Airbnb doesn't have a hot tub or if it's not in the best location. But if they check-in and find a single hair in the shower or on their pillow…
Today we're going to pull the curtain back and give you a sneak peek into our vetting process. You can use this exact process to hire your first cleaner. Remember, the more time you spend on investigating the cleaning company or individual who's responsible for your Airbnb, the more time (and ibprofen) you'll save down the road. 
5-Step Vetting Process
Step 1: The Virtual Handshake
After you've found a recommendation for a cleaner you need to start doing your own virtual background check. Compare platforms like Facebook, Google, Yelp, and Nextdoor to see if anyone has posted negative feedback about the cleaner or cleaning service. Check for posts for any hints of unprofessionalism. Look at their Google reviews to see how they respond when a customer has complained. For solo cleaners, you can try to find their personal Google profile to see how they treat other companies with their own reviews. 
Step 2: Phone Screen
This step is to get to know the cleaner to see if they're going to be a good fit for your property. You can gather pricing information, ensure they have availability for your unit, and ask for referrals. You can even combine this step with Step 4.
Learn More: Top 2 Questions to Ask Your Potential Maid Service
Step 3: Reference Check
Your cleaner is going to have unlimited access to your property and personal items on the property. You want to be sure that your cleaner is honest and has integrity. Follow up with the information you obtained in the previous step by actually contacting their referrals. If the cleaner does not have any referrals and has been in business for a while, then this is a red flag. Ask the referral if the cleaner was quick to respond, if they ever missed a cleaning, and if their cleaning quality was consistent. You can also go one step further and conduct a background check through Checkr (for solo cleaners only).  
Step 4: Test Cleaning
Most cleaners are unable to give their pricing over the phone. This is a great opportunity to kill two birds with one stone. Have the cleaner meet you at the property to give you an estimate, complete the cleaning, and show them any special requests or requirements for your property. You can monitor how long they take, if they arrive on time, check the quality immediately following the cleaning, and go ahead and hire them for the season if they pass. 
Step 5: Continued Oversight
This is the easiest step of all. Since most hosts are persnickety, you'll quickly find out how good your cleaner really is. Airbnb makes this super easy with their reporting software that checks in with each guest after their stay. In the cleaning industry, three strikes are one too many. In case the guest was overboard and unfair about their cleaning review, we like to give cleaners a second chance. Do not be afraid to hire a new cleaner quickly if complaints start to roll in consistently. 
Pro-tip: Always have a few emergency cleaners ready in case your cleaner cancels last minute. Especially for a solo cleaner. This way you're not stuck cleaning your property (if you're local). Or worse, your guest arrives at a dirty property. 
VACATION RENTAL HOST'S FAQ
How much should my Airbnb cleaning cost?
Cleaning fees vary drastically depending on factors such as location, home size, number of bathrooms, linens, pets, and much more. It's almost impossible to give an exact estimate for every state. Our friends over at HostHub have a great resource for Airbnb Cleaning Fees.
How long should it take to clean my Airbnb?
If you're not including linens, then your vacation rental cleaning should take 1 hour for every 500 sq. ft. of cleaning. That means a 1,500 sq. ft. property should take 3 hours to clean. 
Do you have any tips for how I can clean my Airbnb faster?
Saving money by cleaning the property yourself is always an option. Check out our post; How to Clean Your Airbnb in 9 Superhost Steps to cleaning your rental like a pro. 
What's an Owner's Closet? And Do I Need One?
The owners' closet, also known as the "cleaner's closet," is a locked closet, garage, room, or area of your property that guests do not have access to. As a serious Airbnb host, this is a non-negotiable.
Learn more: How to Set Up an Owners Closet for Your Airbnb
This is your chance to ask a professional cleaning service anything! What are some other good questions you'd like to know about cleaning and your Airbnb? Let me know in the comments. 
This article was collaborated with our cleaning flamingo friends over at Vacation Home Help. They specialize in Airbnb cleaning services in Orlando, Florida.