The other day I was completing a cleaning for a Vacation Rental customer who had not yet set up his owner's closet. This is what the laundry room looked like when I first walked in: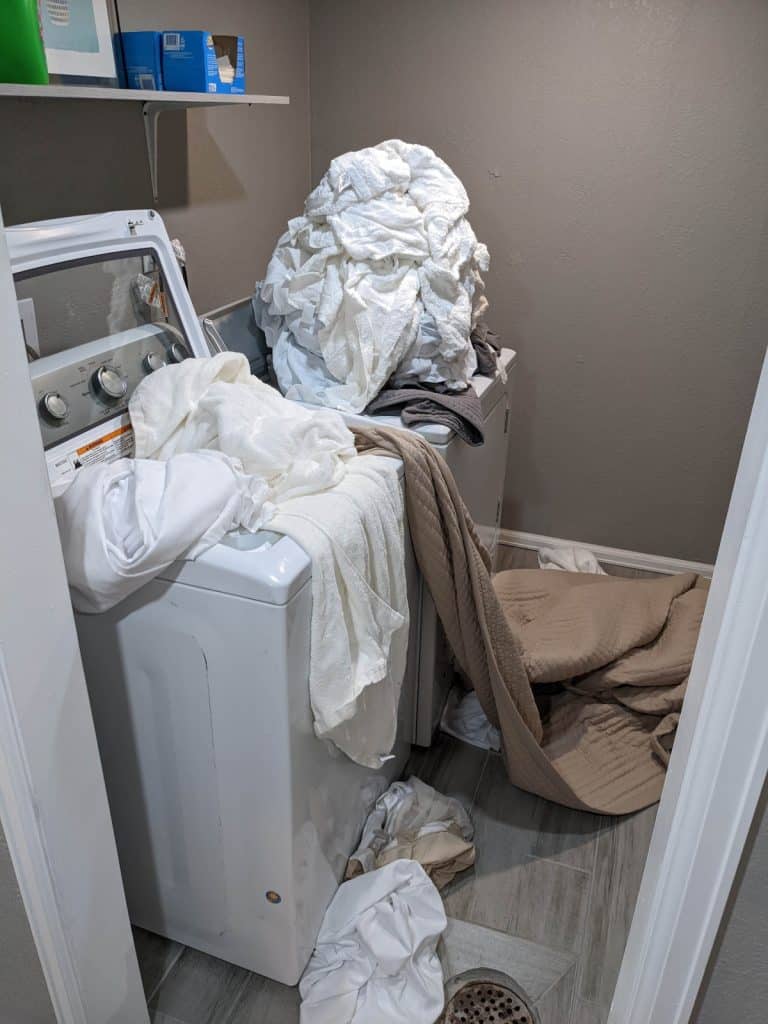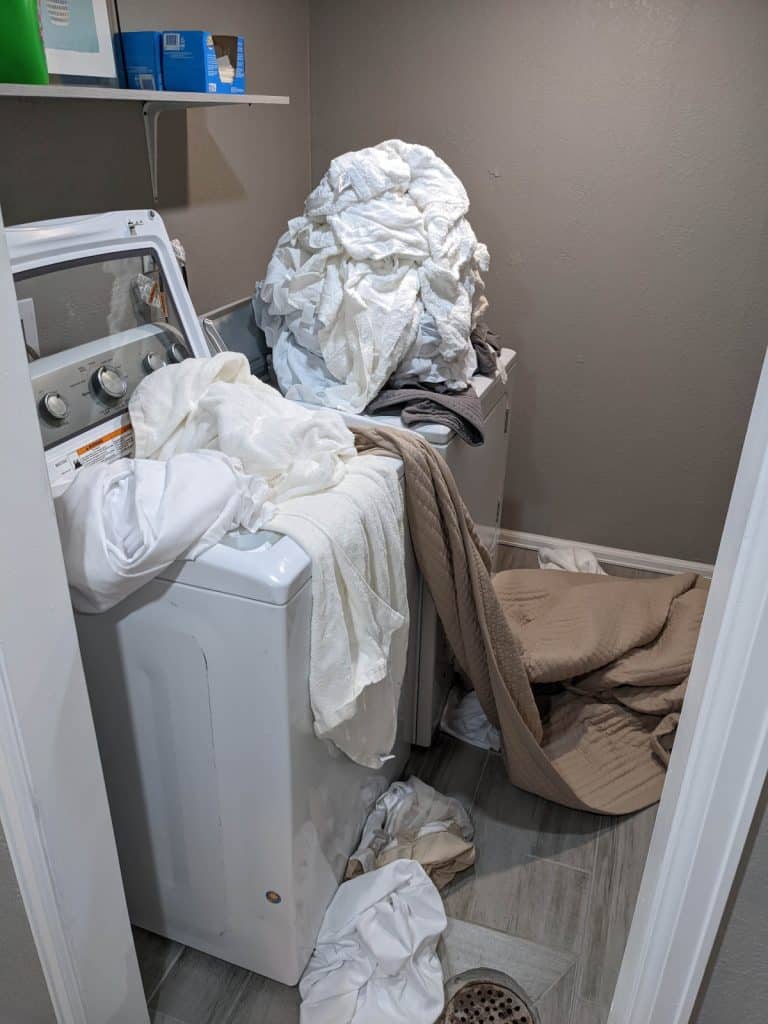 Since his owner's closet was not yet established he had placed all his backup towels and linens in an unlocked closet. These guests found them and proceeded to use every single towel and a few extra linens during the course of their stay. 
Cleaning all the linens took almost 7 loads of laundry and his next incoming guests had to check in at a later time. 
This is one major reason why your Airbnb must have an owner's closet. The owners' closet, also known as the "cleaner's closet," is a locked closet, garage, room, or area of your property that guests do not have access to. 
Here are 3 reasons why we recommend installing and stocking up your owner's closet today:
Security

– Some hosts have reported their guests resetting the wifi in order to turn off the exterior cameras. An owner's closet will give you a place to store your internet modem and router in order to restrict access for your guests. 

Additional Storage

– Backup linens, replacement batteries, personal items, and more. Keep all these valuable items away organized for easy access between turnovers.

Smooth Cleaning

– Store your cleaning supplies without guests using them during their stay.
SETTING UP YOUR OWNERS' CLOSET
Closet Security
First things first. Your guests are going to snoop – they can't help it! So before getting started you should hang a professional sign to mark your private owners' closet. This communicates to your guests that this part of the property is off limits and they can snoop somewhere else. 
If guests start invading your privacy by damaging property or forcing doors open, then add this little snippet to your house rules on Airbnb: 
 "Any locked closet doors are locked for privacy purposes. Forcing the door open will result in a loss of your security deposit."
Now that your sign is hung, you'll need a lock! You never want to be caught juggling keys with your cleaners or co-hosts. That's why a keyless lock is essential. Plus, you can share the code with your guests in a linen emergency.
Pro-tip: If you're budget conscious and looking for a way to cut costs, then you can purchase a magnetic key hider and affix it to the side or rear of your dryer. Make sure you have a backup key! 
Cleaner Binder
Outsourcing your vacation rental cleaning is the biggest step to automating your Airbnb. Once you have hired an amazing cleaner, you'll need to educate them on any special tasks that are unique to your property. 
Create a 3-ring binder with room-by-room checklists, photos of how you'd like each room to look after the cleaning, and any other special instructions. You can also place a small postcard that your cleaner can fill out and leave behind for the guests. This is a simple step that shows your guests the property was recently cleaned.
The best thing about this binder is that it's timeless. If you ever have to hire a new cleaner, then it will be simple to get them up to speed. Store this in your owners' closet for easy reference.
WHAT ITEMS DO YOU NEED TO STORE IN YOUR OWNERS' CLOSET?
Linens
To avoid spending the entire turnover doing laundry you need to control the number of linens your guests have access to. Additionally, since cleaners or cleaning services typically charge per load of laundry this will mitigate the risk of being charged extra by your cleaning provider.  
We recommend having three sets of linens per bed. One is the active set the guests are actively using. One is the replacement set that you or your cleaning service can use to make the beds after stripping the active set. The last set is an emergency set – in case something is spilled on the linens or they're damaged.
The following chart represents every linen item you should have for your property.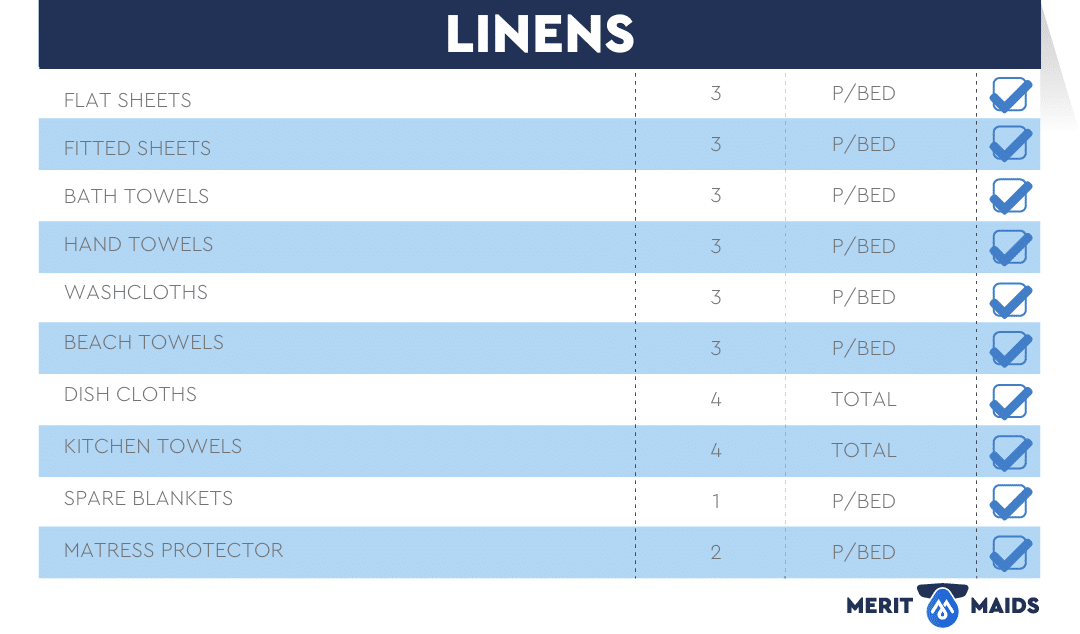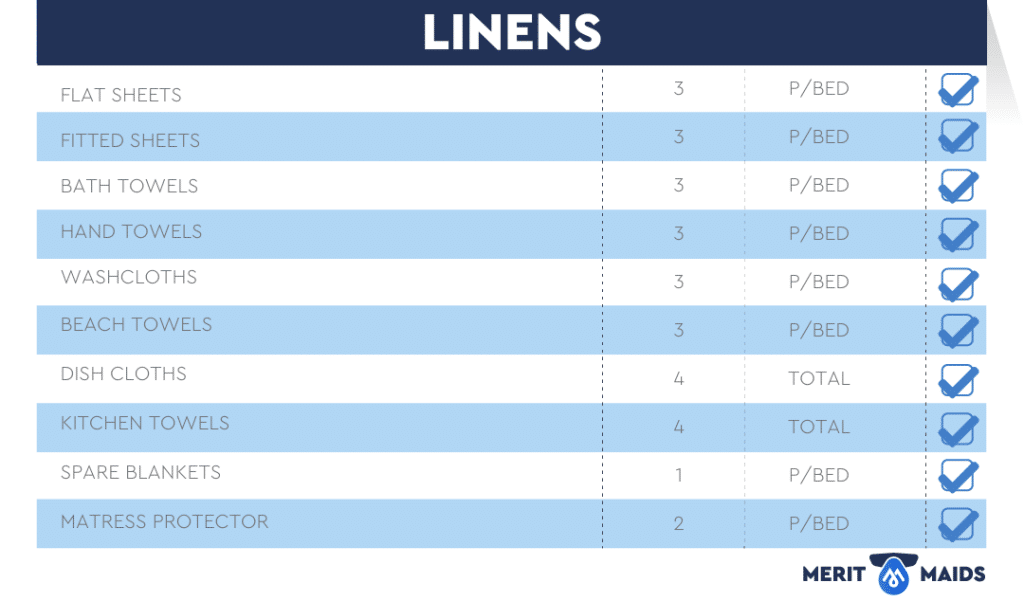 Paper Products
Guests will also expect to have certain items to get them started. Not like a hotel where everything is provided and replenished during the stay. These are just extra items you should provide for your guest upon their arrival.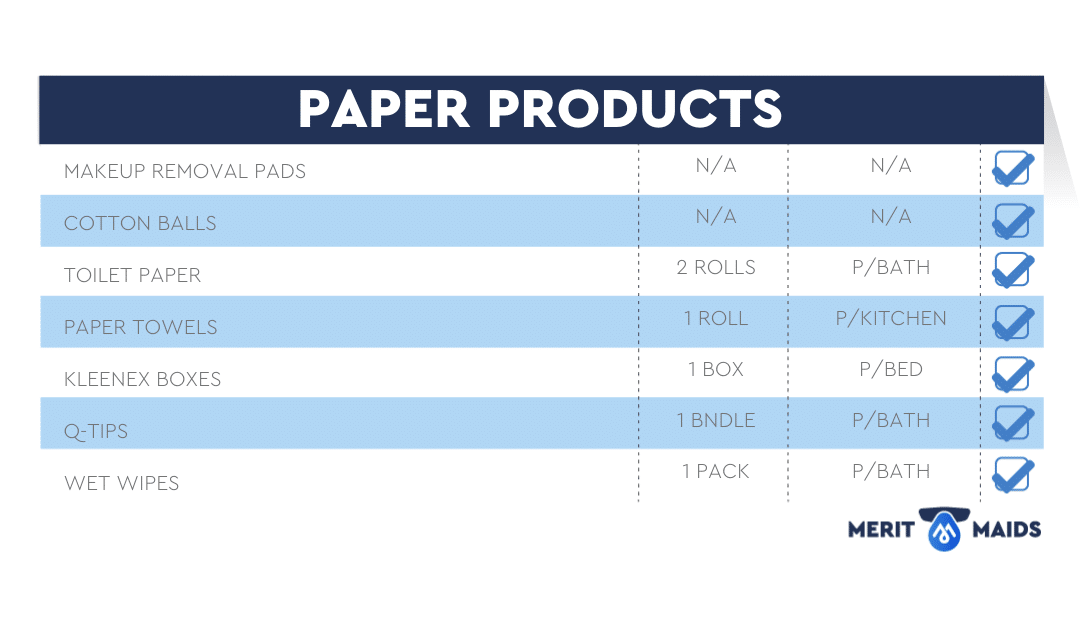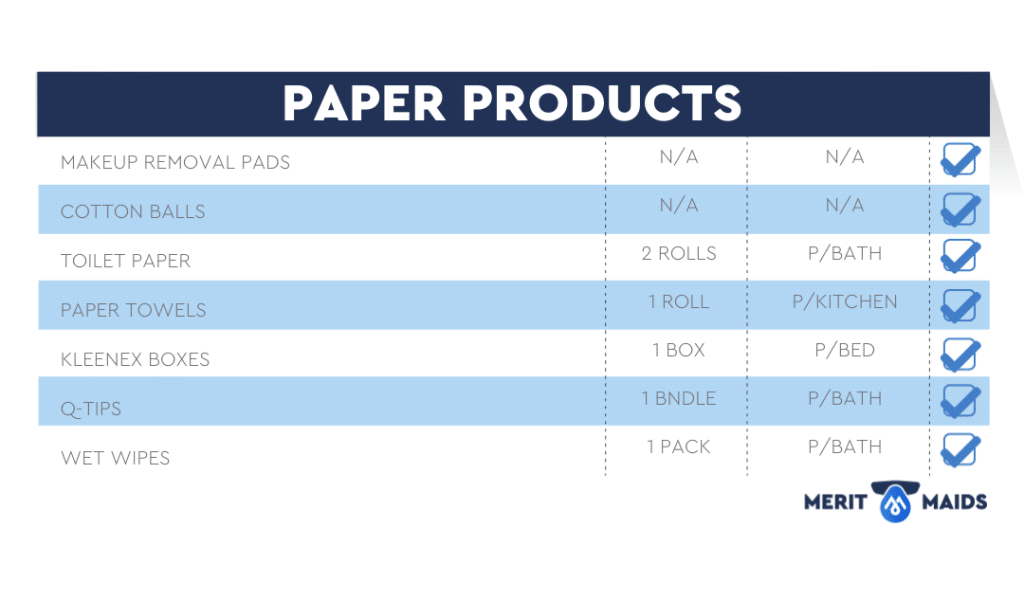 Additional Supplies
These items have become the industry standard that each guest expects. Some hosts go the extra mile and provide small gift baskets, chocolates, and other gifts to show the guest their appreciation.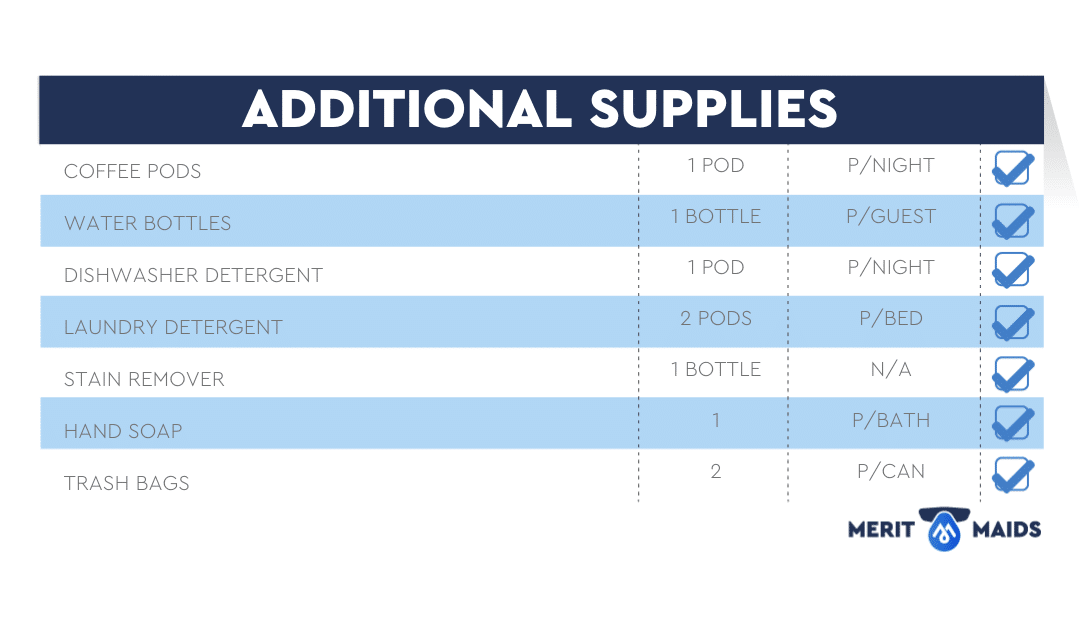 Cleaning Supplies
Even if you have an Airbnb cleaning service, it's a good idea to have cleaning supplies on hand. Cleaners will sometimes miss a spot and you'll need the tools necessary to ensure your property is clean. You can find a full list of cleaning equipment and supplies in our article: "How to Clean Your Airbnb in 9 Superhost Steps."
Pro-tip: It's a good practice to leave a small amount of cleaning supplies accessible to your guests to encourage them to clean up after themselves. Especially if they accidentally spill something.
Miscellaneous
These items don't need to be replaced after every check-out. This is for Murphy. You know…Murphy's Law?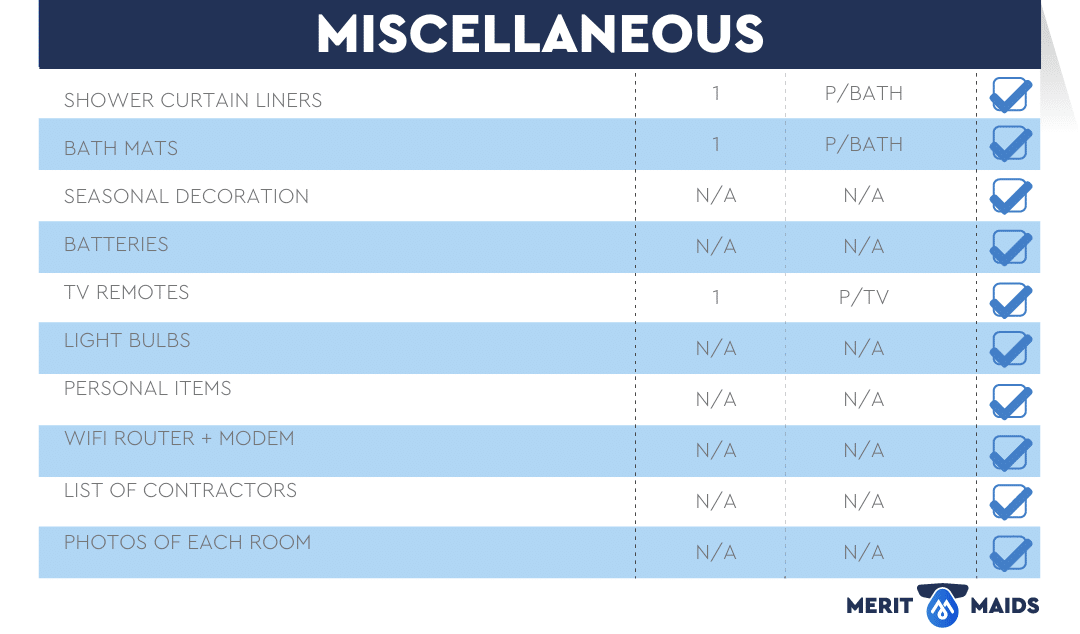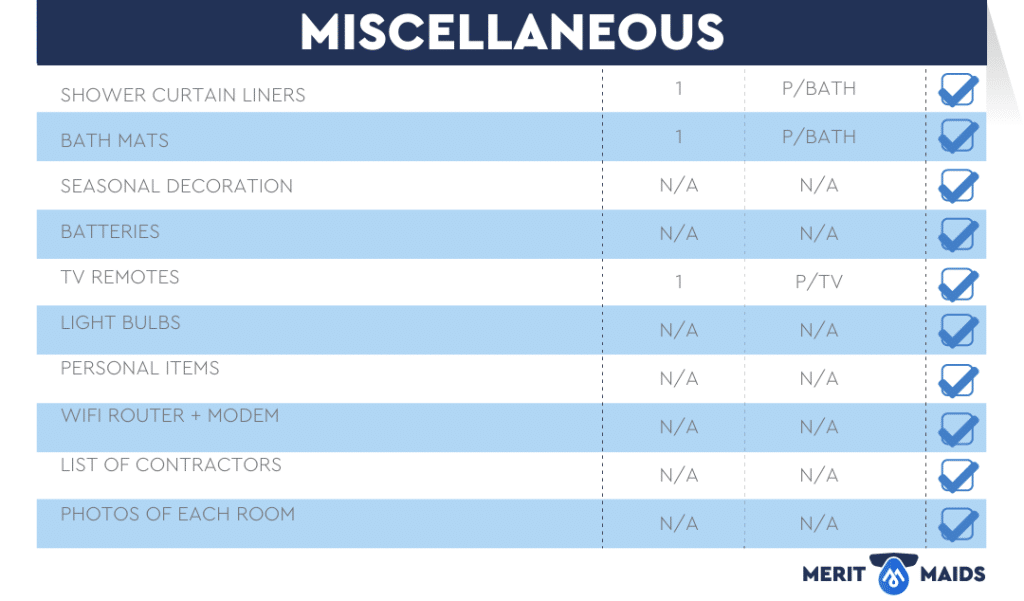 FAQ
Q: How big should my owner's closet be?
A: It depends on the size of your property. If you're listing 1 small room or cabin, then you may only need a small cabinet to store everything. On the flip side, if you're listing a 6 bedroom, mountain house, then you may need an entire room sectioned off for your owners' closet. 
Q: Should I ever allow my guests access to the closet?
A: This depends on your level of trust in your guest. Sometimes it's necessary to appease a guest in a bad situation. It will also save you a trip (or paying someone to go to the property) to give your guests access to something they need in the closet.
Q: I don't live near my Airbnb. How do I restock the closet from a distance?
A: The easy solution is to ship your replacement items to your property. Simply ask the incoming guest to receive your package and place them by the owners' closet door for the cleaners to stock the closet with. You can even offer them a small discount for taking the time to help you.
Q: What color linens should I use?
A: This is a controversial question that everyone seems to have an opinion on. We will lay out both sides of the argument and leave the decision to you. One group recommends white linens because they're easy to bleach and guests won't second guess if they've been cleaned. They can simply look at them and know. The opposing group recommends dark linens. They argue that they last longer and do not get stained as easily.