The straw officially broke the camel's back. 
Your current cleaning service let you down…again. You've given them so many opportunities, but they're like a guy peeing, they always miss the target. 
After each cleaning, it's like a game, you close your eyes and cross your fingers before you open your front door (kinda like when you go into your teenage boy's bathroom).
"Please be clean. I don't want to have to clean up after the cleaners."
Last week they didn't sweep under the rug, the cleaning prior they accidentally let your cat out, and the list goes on and on. 
Unfortunately, you're the camel with the broken back in this scenario. You cancel their services and now you're in the market for a new cleaning service. 
Today I'm going to show you how to demo your home's revolving door for cleaning or maid services and finally find a team that exceeds your expectations every time. 
The solution is 2 simple questions…  
Question #1: Do you provide the same cleaning team every time?
Let me answer this question with a question: Have you ever had Hamburger Helper? 
If you have kids or were once a kid, then the answer is probably a mouthwatering "yes."
Well, in the '90s, following a dramatic drop in sales, the Hamburger Helper marketing team discovered that parents valued consistency over more choices. After a day full of surprises, parents just wanted to open their Cheeseburger Macaroni and trust that it was going to turn out the same way it's always tasted. 
With the overwhelming flavor options, parents opted for something they knew would turn out how they remember and picked up Kraft Macaroni & Cheese instead. 
In an unexpected, inconsistent world, consistency is becoming a rare commodity.  
Having a home cleaning service should be a consistent experience. Every time your home is cleaned you should expect to have your bed made neatly, floors to be spotless, carpet to have vacuum stripes, and a fresh smell that fills your entire home. 
This is easy to accomplish if your cleaning service sends the same cleaner(s) to every cleaning appointment. 
With the same cleaner, they can get to know your personal preferences, notice high-traffic areas, and become more efficient with each cleaning. Plus, they won't be a stranger. 
Having a different cleaning team every time is like going to a new dentist anytime you need to check for cavities. 
They have to learn all about you, everything is unfamiliar, the appointment takes longer, you repeat yourself over and over, The dentist may still perform a great service, but you know you'll have to go through the same process when your next cavity arises.  
With a service that promises that same cleaning team, you know what to expect and more importantly who to expect. 
At Merit Maids, we believe in a consistent cleaning experience. Not only do we want you to have consistency, but we also want our team members to build a relationship with our clients. Not a surface level, "Hi, how are you?" type of relationship. More like a long-lasting friendship. 
Whenever a rare occurrence arises where your typically cleaner is unavailable we'll let you know. This way you can make the decision on substituting the cleaner or rearranging your schedule to match your cleaner's availability. 
Question #2: What happens if I'm not satisfied with the cleaning?
You're pumped! Today's the day your cleaners come. You scheduled your first home cleaning with a new cleaning service and you can't wait to feel like a superhero by getting work done and cleaning your house AT THE SAME TIME.
The cleaners arrive on time, you show them around and head out to do some work at Starbucks to get out of their way. Everything seems great. 
After enjoying a mocha iced tea, you come home to the fresh smell of [insert your favorite smell]. But as you walk through the house you notice that the baseboards still have dust on them, your glass shower doors are filmy and your bed hasn't even been made. 
"I could've done a better job myself." 
Now you have to go through the hassle of getting ahold of the cleaners and cross your fingers hoping they will make up for the issue. 
This is a nightmare! Especially if the service blames your pets for magically messing up the floors in the 10 minutes your house was vacant before you came home. 
This could be you if you don't do your homework.  
When researching cleaning services it should be easy to locate some sort of guarantee. If they don't have it clearly and obviously stated on their site like this…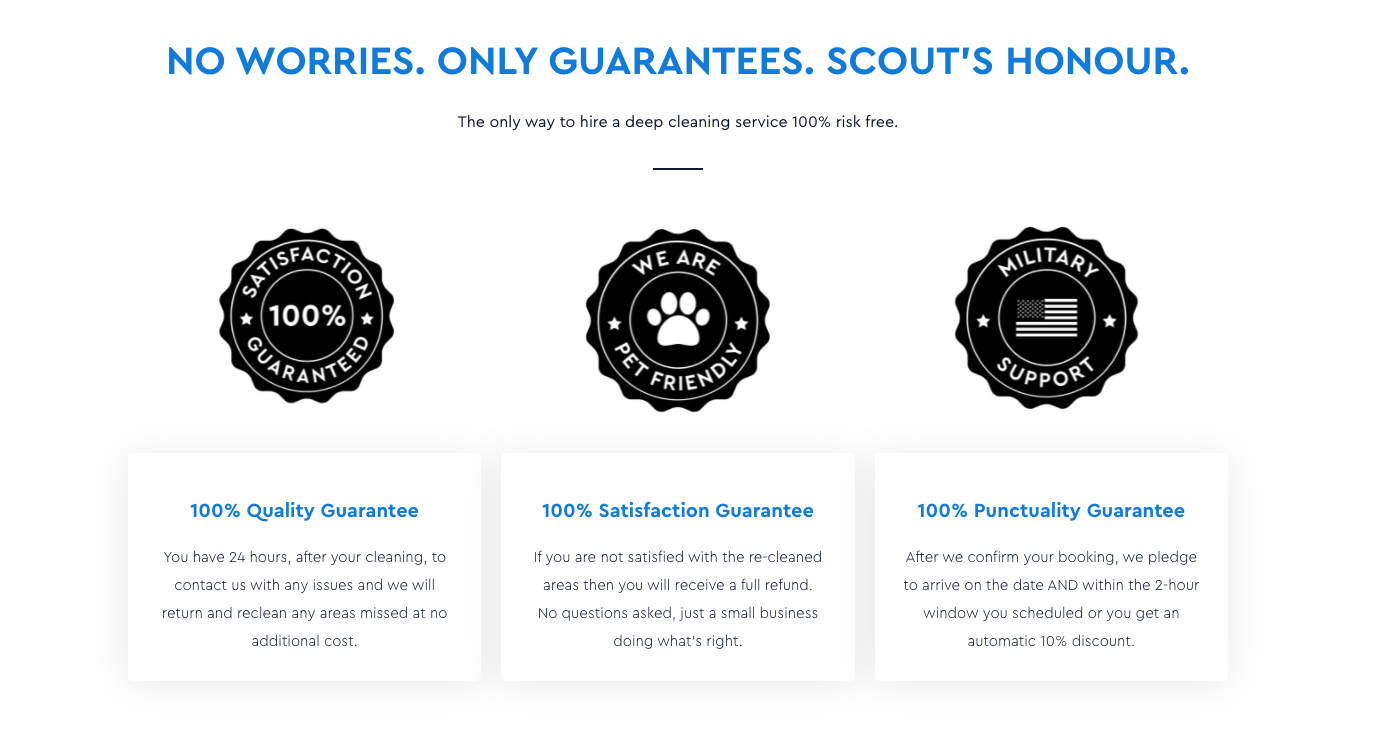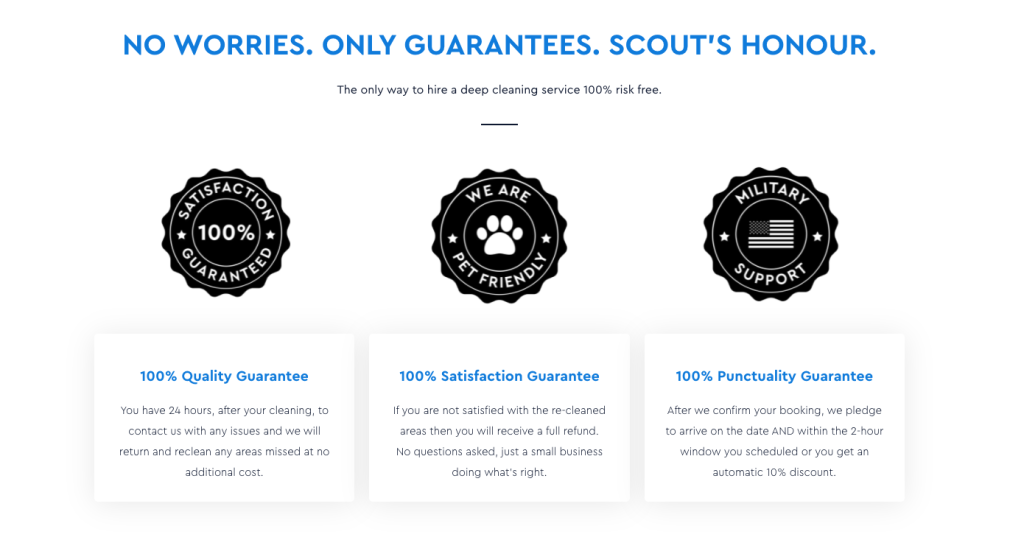 ….then I'd recommend looking elsewhere. 
We understand things happened and we're not perfect. A dust bunny might escape the suction of our vacuums, a pet hair tumbleweed may get overlooked. But if this happens we will do our best to make it right and work with you until you're completely satisfied. 
When you trust Merit Maids to complete your home cleaning we guarantee our work. Scout's Honor. 
To ensure quality and consistency, remember to ask the 2 important questions: 
Do you provide the same cleaning team every time?

What happens if I'm not satisfied with the cleaning?
This will weed out the winners, on your cleaning services shortlist, from the companies who will just cause headaches down the road.