3 TYPES OF CLEANERS
The cleaning industry is saturated with all kinds of cleaners – leaving you with plenty of options. After years in the cleaning industry, we've narrowed down all the different types of housekeepers, maids, and cleaning franchises you will discover in your search for a clean home. 
"The Weekend Warrior"
Cleaning is one of the easiest businesses to start. Everyone has some experience cleaning and cleaning supplies are not too expensive. That's why it's extremely common to find cleaners working a full-time job in addition to cleaning their friend's and families' homes on the weekends. 
These types of cleaning providers are somewhat of a roll of the dice. You will either hire…
A cleaner who walks through your home spraying air freshener randomly while listening to Adele on their AirPods

Or a maid for life, who becomes part of the family, at a very reasonable price. 
The best way to find a budget-friendly, weekend warrior is to ask your neighbors or friends for a referral. Since most weekend warriors don't have an official website or promotional flyers it's much easier to find them through word-of-mouth. A good litmus test is to ask them, "What's the difference between a deep house cleaning vs. standard house cleaning?"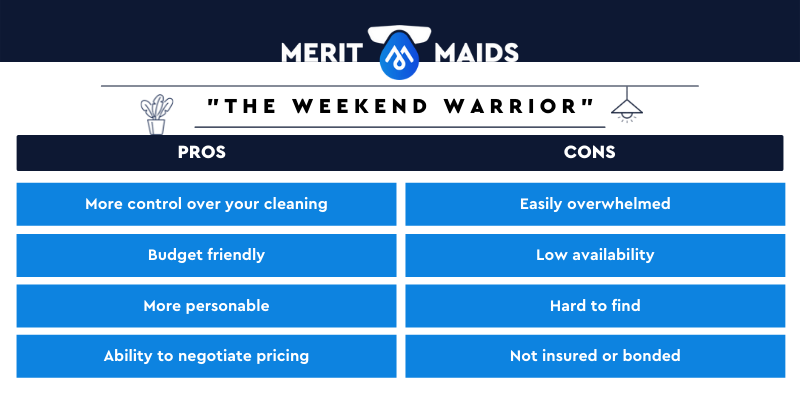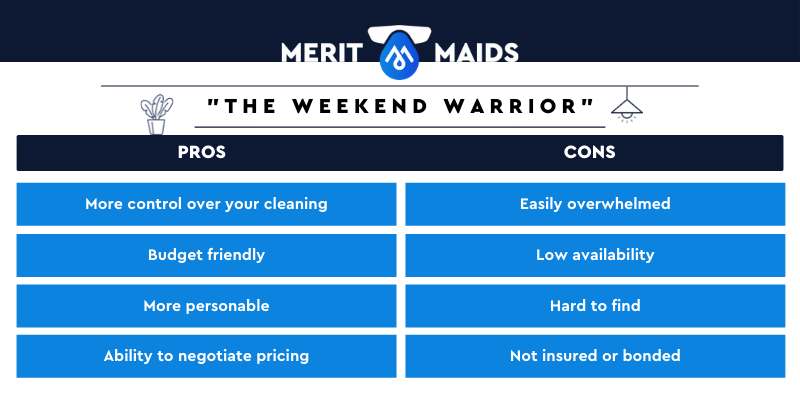 Pro-tip: If they're not bonded and insured, then I recommend sticking around for the first few cleanings until they earn your trust.
"The Mom & Pop Shop"
This is a local, sometimes family-owned, small business. It's the happy medium between an individual maid and an expensive, large franchise. 
Lacy recently visited a chiropractor for some minor back pain. She found this company online with 5-star reviews and was even referred by a friend from the gym. Even though her expectations were high, this place far exceeded them…
The enthusiastic welcome surprised her when she walked in, "

Hi, Lacy! Welcome. Dr. [X] will be right with you. Do you need any water while you wait?"

 

A welcome board specifically with her name on it

Her doctor was the actual owner and knew how to pronounce our last name properly (long story)
All these little personal touches made her feel valued like she was the first customer to walk through the door. Needless to say, this company earned our business for life. 
These types of cleaning providers are able to deliver a unique experience because they don't have to fight through red tape or stick to strict policies. They only worry about their customer's overall experience.
In full transparency, this is where Lacy and I fall on the cleaner spectrum. Merit Maids started with a $100 trip to Target to gather all our cleaning supplies. Now we're the proud owners of a local, family-run business right here in Denver, CO…thanks to all of our amazing customers.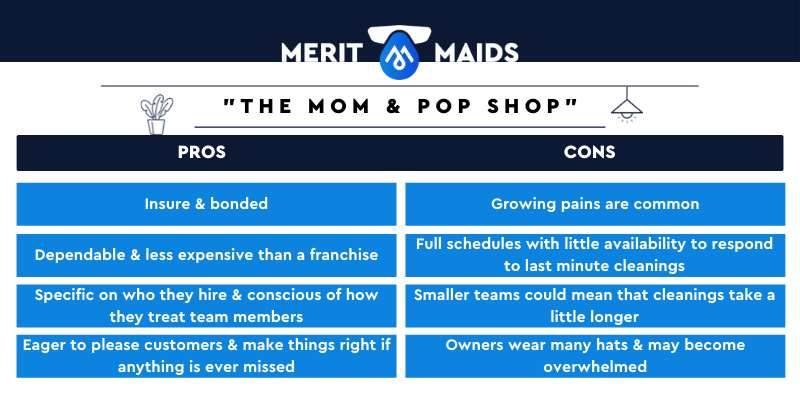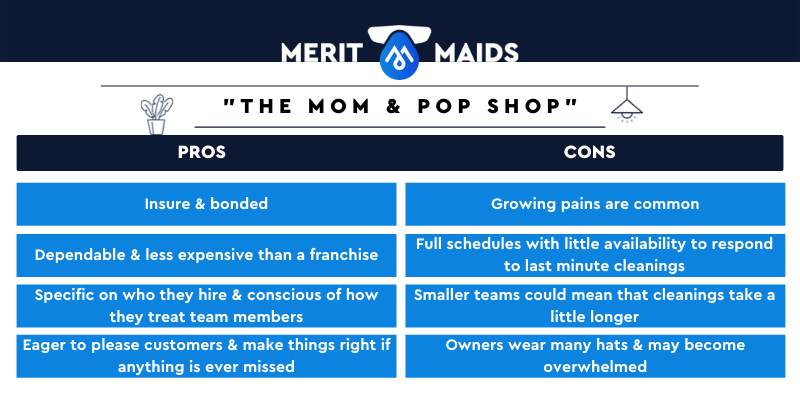 Learn More: For additional details about our story, click here. 
"Maids named Molly or who are always Merry"
These are the larger, franchise model maid services. They are the ones that will arrive in a fancy, wrapped car with professional uniforms.
These big-box stores are trustworthy and have a great amount of experience. Although they sometimes lack a more personal experience. Which can be highly valued for someone cleaning your home.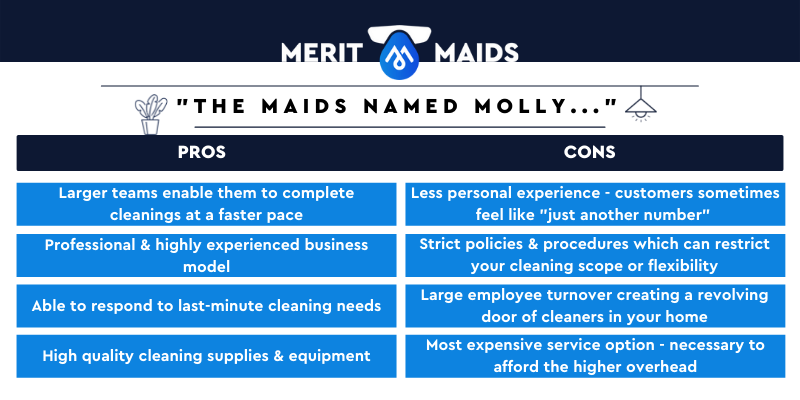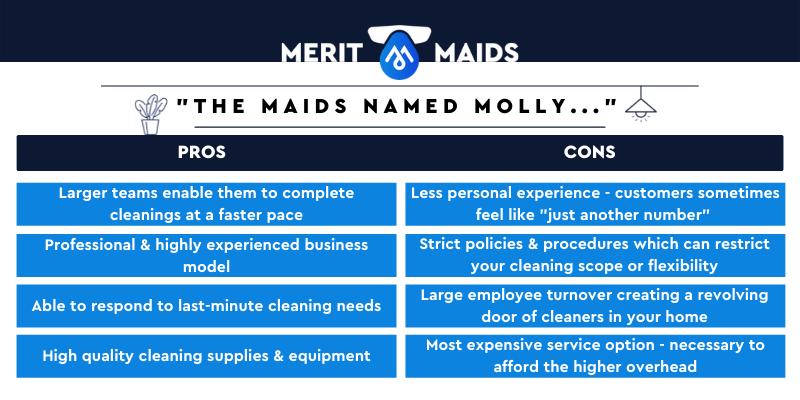 CHOOSING WHO YOU WANT TO CLEAN YOUR HOME
As long as you complete your due diligence, there's really nothing wrong with any of these types of cleaners. 
Deciding who you want to clean your home all depends on what you value most. Maybe you're a single parent on a strict budget that needs a helping hand on the weekends. Or maybe you have some extra money and really want a professional experience. 
If you want a personal, high-quality experience for an average price then you can schedule your cleaning today. 
Or send me a message…I'm not some automated robot. I read and respond to all our emails.